Elgeziry Sets Olympic Record in Fourth Games
On the second to last day of these Tokyo Olympic Games, 36 men from 26 nations were competing to be crowned the men's Modern Pentathlon Olympic Champion.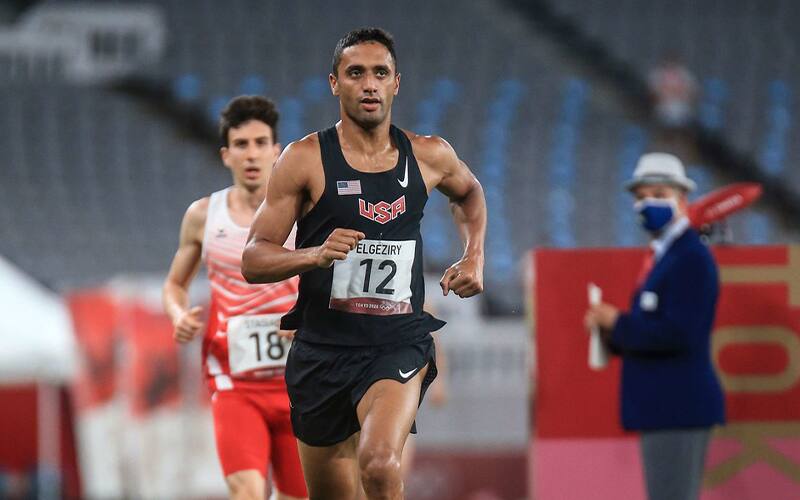 Amro Elgeziry was the lone Team USA athlete in the field. The competition started on Aug 5th with the fencing ranking round. There were some good hits but also some unlucky losses. With a total of 196 points, he was in 27th place for the fencing event. Aug 7th saw the conclusion of the Modern Pentathlon. All events took place inside Tokyo Stadium, an amazing setup.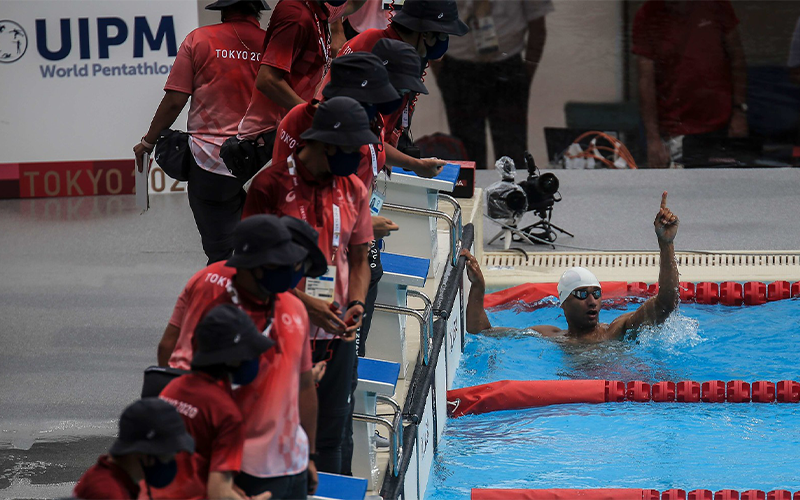 The swimming event was the highlight of the day. Elgeziry was swimming in heat 6, lane 6. He and GBR were neck and neck the entire race. On the last 25, Elgeziry powered his way to the lead and finished with a time of 1:52.96; a new Olympic Record.


Up next was the fencing bonus round. Elgeziry was up against HUN, and he made a great fleche to get the victory. His next opponent was GER, and he got his second victory in a row with a stop hit on the arm. His third match was against ESP. Elgeziry made an attack, but ESP was able to block and get the hit. Elgeziry came away from the fencing bonus round with 2 bonus points.


Before the riding event, he was in 16th place. Elgeziry drew a strong horse that liked to jump big. He was able to get a good rhythm going and got around the course with one knockdown and 3 time faults. With a total score of 290, he moved up to 12th place before the start of the laser run event.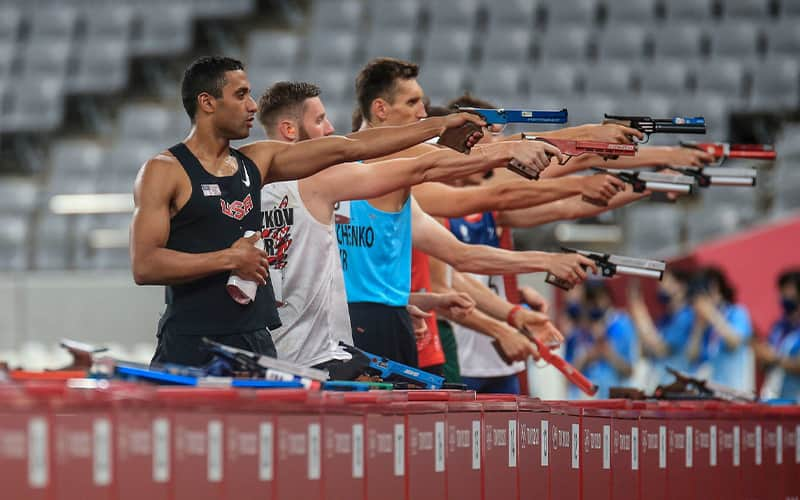 Elgeziry had some difficulties in the shooting portion and unfortunately had some of the best laser run athletes around him. He lost a few places during the event, crossing the finish line in 26th place.


This was Elgeziry's fourth Olympic Games, an amazing achievement that only a handful of modern pentathletes have ever accomplished.


That does it for Team USA's Modern Pentathlon team here in Tokyo. Both Samantha Schultz and Amro Elgeziry will be marching in the closing ceremonies so be sure to watch and cheer them on as their Tokyo Olympic journey comes to an end. GO TEAM USA!!!