Meet Former UC Davis Fencer and Davis Fencing Academy Owner Simon Pitfield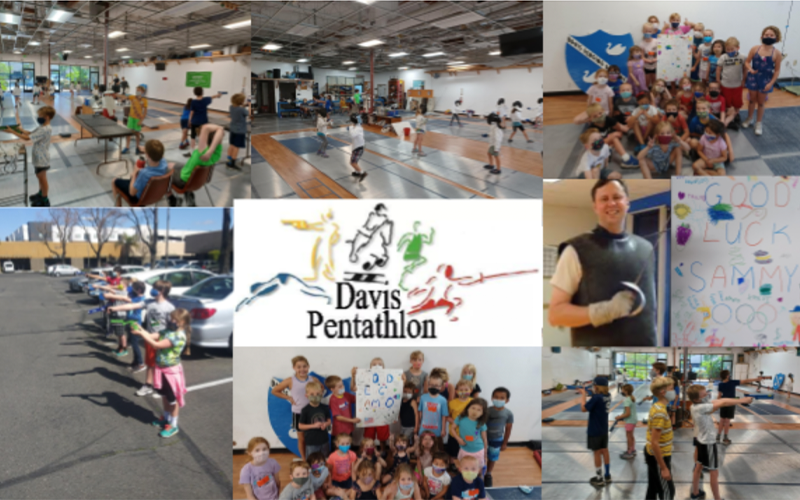 Simon Pitfield, regional director of the USA Pentathlon Multisport (USAPM), is a fencing coach and the owner of Davis Fencing Academy. The USA Pentathlon organization had a discussion with Simon about his involvement in the sport.


USAPM: How did you become involved with Pentathlon?
SP: While I had heard about pentathlon over the years, my first introduction to the sport came when a pentathlete (Natalie Bowman) from about an hour away started coming to Davis Fencing Academy in 2012. Her fencing club closed for the month of July (after fencing national championships) and she had Youth World Championships in August and needed to stay in practice. After a month, she went to the competition and took 51st in fencing/41st overall, but realized my fencing academy offered more than her local club. She came twice a week for the next year and returned to the World Championships the following year where she took 16th in fencing and 17th overall. It wasn't long before I received an invite from USA Pentathlon Multisport to go to the National Championships and coaches training camp. I enjoyed the nationals and training camp, but felt that the sport should be much larger. In 2015, I hosted the Davis Pentathlon which attracted about 50 athletes and started the pentathlon program in Davis.
USAPM: What is the biggest lesson you have learned as an athlete and coach?
SP: Never give up. Most of the best athletes I know were not the "natural" athletes, but the hardest workers. When I started fencing at UC Davis, I was so uncoordinated that my coach would go home after practice praying I wouldn't return (he admitted this when I asked him to be best man at my wedding). The other thing I learned out of this was that while he may not have seen my potential, he never communicated this to me and worked with me every week.
USAPM: What do you enjoy most about being a coach?
SP: The most enjoyable part of coaching is meeting wonderful athletes and coaches from across the country and around the world.

USAPM: What is one piece of advice that you would give to a beginner athlete?
SP: Never give up. It is not where you start, but where you go that is important.
USAPM: What is the best nutritional advice you have heard?
SP: While no one has specifically said this to me, through the years all of my nutritional changes have come down to, "Listen to your body." I have learned that meat, especially red meat, in moderation helps prevent my migraines, a little half and half in coffee counters its acid, and avoiding gluten/simple starches reduces my chest pain. Some of these are common, some are not, or even counter-intuitive, but it works for me. I recommend that my athletes keep a food/exercise journal where they also track their physical, mental and psychological state. Reviewing this journal quarterly helps them find trends that they can take advantage of.
USAPM: How has Pentathlon made you into the person you are today?
SP: The multidisciplinary aspect of pentathlon was a wonderful revelation. It has allowed me to grow as a coach and find much more balance in my career. Fencing coaching, while great, had started to get a little monotonous, spending every competition in what I term the "concrete tomb" of convention centers. Pentathlon allows me to get outside, meet a much wider range of people, and prevents me from getting into a rut.
USAPM: What hardships have you faced in accomplishing your goals?
SP: The life of an owner/coach is crazy!! Starting straight out of college, I did not have any savings to begin with and drove for the local airport van company to make ends meet. I have had to relocate the club several times, usually at the landlord's request rather than my own. Twice, I have had coaches start at my club, only to attempt to poach my students to start their own club. Obviously, we have survived Covid shutdowns, especially in California.
USAPM: What characteristics/skills/abilities make a strong Pentathlon Athlete?
SP: While pentathlon obviously requires strong physical skills, as well as time management and perseverance (especially in such an under-represented sport), the rarest ability is to be able to deal mentally with the head-to-head competition of fencing and the routine of running and swimming. I see a lot of otherwise good pentathletes struggle with this, either not embracing the fencing mindset or not having the discipline for the hours required of swimming/running.
USAPM: Is there any other additional information that you would like to share about yourself or your club?
SP: We are excited about hosting a National Qualifier for USAPM this fall. This summer we have over 100 kids attending fencing and marksmanship camps in preparation for the event. (Images shown above)